BC Parks along Route 16
Fully completed in 1984, Highway 16 stretches across central B.C., totaling 1,072 kilometres. Starting at the B.C. – Alberta Border in Mount Robson Provincial Park, Highway 16 meanders to the coastal port of Prince Rupert and finally to Masset on the north end of Haida Gwaii. Offering stunning views and exciting adventures in some of…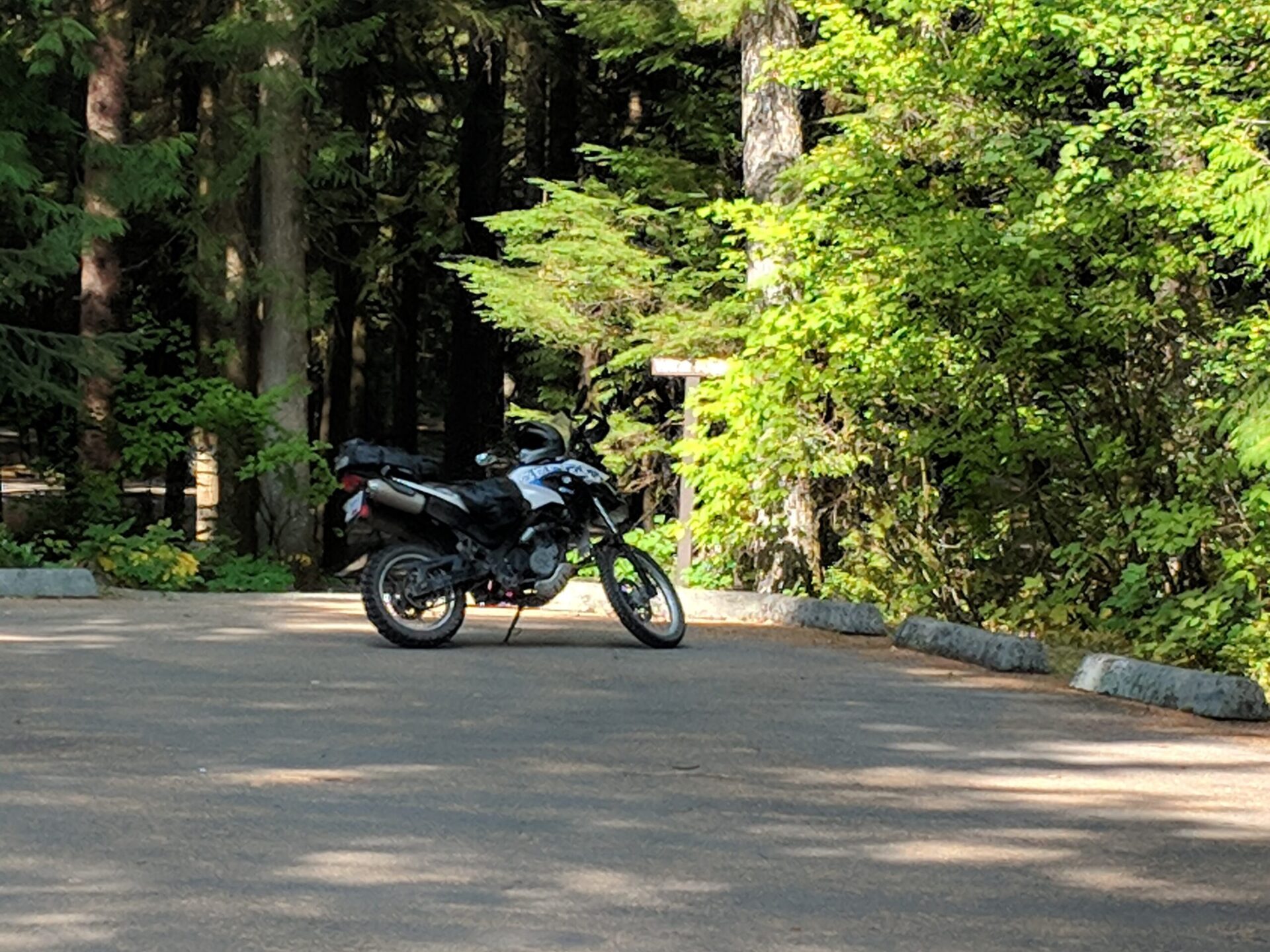 Fully completed in 1984, Highway 16 stretches across central B.C., totaling 1,072 kilometres. Starting at the B.C. – Alberta Border in Mount Robson Provincial Park, Highway 16 meanders to the coastal port of Prince Rupert and finally to Masset on the north end of Haida Gwaii. Offering stunning views and exciting adventures in some of B.C.'s most beautiful parks, touring Highway 16 should be on your bucket list!
Having moved to Northern B.C. two years ago, I was excited to explore the diverse landscapes the region has to offer. Since settling into Prince George, I have driven Highway 16 many times and have discovered several amazing places to connect with nature. Below I highlight must-see stops along this incredible section of the highway, heading east to west.
---
Mount Robson Provincial Park
Whether you stop for a quick stretch or for multiple days, Mount Robson Provincial Park has something for all interests and abilities. There are several hiking trails, ranging from short and easy excursions to multi-day backpacking adventures along the Berg Lake Trail and Mount Fitzwilliam. With over 200 campsites (22 are electrified!), Robson offers a wonderful place to spend the night, while taking in the surrounding scenery. If only a quick stop can be had, be sure to enjoy the visitor centre and the exquisite view of Mount Robson from the back deck.
---
Ancient Forest / Chun T'oh Whudujut Provincial Park
Enjoy a walk among giants in one of BC Parks' newest and most unique parks. The Ancient Forest / Chun T'oh Whudujut offers a 450 metre accessible boardwalk and an additional 2.3 km trail throughout this incredible ecosystem – an Inland rainforest. Situated in the interior wetbelt of BC (stretching from the Robson Valley to Revelstoke), the park protects a portion of the only inland temperate rainforest in the world and over 400 plant species, including the endangered Joe-Pye Weed.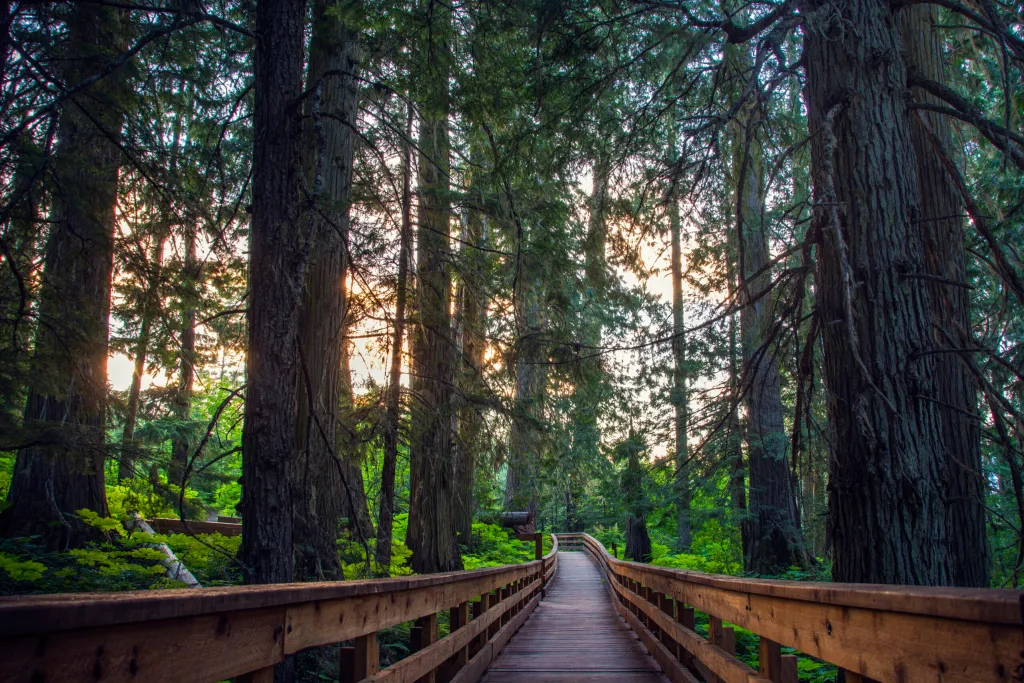 ---
Sugarbowl-Grizzly Den Provincial Park
For individuals seeking a hearty backcountry experience, a stop at Sugarbowl-Grizzly Den Park will satisfy any outdoor enthusiast. Enjoy a day hike up to one of the many ridges to admire the stunning views or spend the night on a tent pad or in one of three cabins – 8 Mile / Grizzly Den (first come, first serve), or Raven Lake (reservation required).
---
Purden Lake Provincial Park
If you are looking for a family-friendly campground east of Prince George, Purden Lake is the place. With a beautiful lake to swim, boat and fish, a lakeshore trail to wander, and a playground with universally-accessible features, Purden Lake is the perfect spot to stay for a few days.
---
Beaumont Provincial Park
Just 134 km west of Prince George on Highway 16, through gently rolling terrain forested with willow, poplar, birch, spruce and occasional stands of aspen lies Beaumont Provincial Park. Within the Nechako Plateau bordered by the communities of Vanderhoof, Fraser Lake and Fort Fraser and to the west and north by the Hazelton, Skeena and Omineca mountains.
The park offers a beautiful, sandy beach for swimming and sunbathing and a variety of facilities for water-oriented activities to enhance visitor enjoyment. Walk in sites with beach access, fire rings and picnic tables make this park the perfect overnight stop.
---
Short detour – Highway 27 to Fort St. James
Just past Vanderhoof consider heading north on Highway 27 to explore the parks around Fort St. James. Situated on the southwest shore of beautiful Stuart Lake, Paarens Beach and Sowchea Bay are delightful, small provincial parks. With uncrowded campgrounds, large beaches and boat launches, they are an ideal base from which to explore the rich history and enjoy the multitude of recreational opportunities around Stuart Lake and the nearby community of Fort St. James. If you are itching for some exercise after a day at the beach, head up to Mount Pope for some fabulous rock climbing, or a 6.5 km hike (one way) to the peak for rewarding panoramic views.
---
Tyhee Lake Provincial Park
Situated between Telkwa and Smithers, Tyhee Lake is a community hub! Offering numerous campsites, a beautiful swimming area, and a kid's pump track, Tyhee Lake is another family-friendly destination. There is also a new concession kiosk to purchase some treats and rent various watercrafts like stand up paddleboards.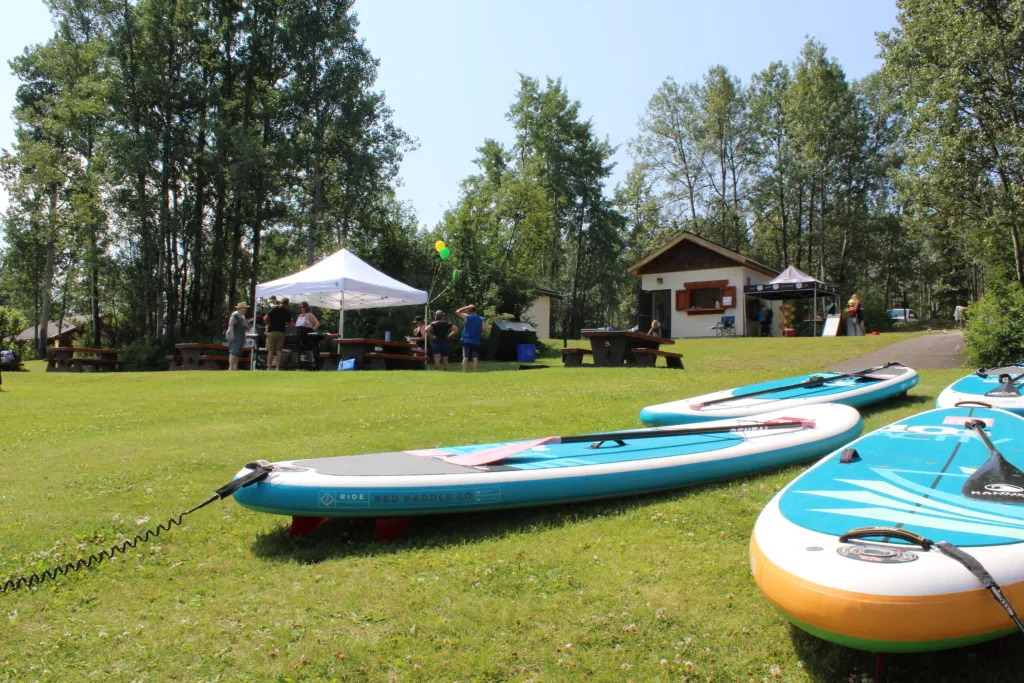 ---
Babine Mountains Provincial Park
Babine Mountains Provincial Park is like a choose your own adventure storybook. With over 31,000 hectares to explore, would you prefer to see glacier-fed lakes, rugged peaks, or extensive sub-alpine meadows? For those wanting the creature comforts of a cabin, Joe L'Orsa Cabin is located in the Silver King Basin and is available to the public year-round on a first come, first serve basis. On route to the Babine Mountain trailhead, be sure to swing by Driftwood Canyon to see some of B.C.'s most remarkable fossils.
---
Short detour – Highway 37 to Kitimat
Setting up basecamp at Lakelse Lake  provides the perfect place for day-trip adventures. Approximately 20 km south of Terrace and 40 km north of Kitimat on Highway #37. With 156 sites, there is something for everyone, including group campsites and electrified sites. Lakelse Lake offers a playground, wonderful beachfront, walking trails and a boat launch for a fun-filled day near the water. Visitors can also enjoy the new visitor centre, amphitheater and purchase snacks and locally made art.
---
Kleanza Creek Provincial Park
Kleanza Creek Provincial Park is located amongst the forests and rock canyons in the Coast Mountains in the town of Terrace, BC. Occupying frontage on the Skeena River and on both sides of Kleanza Creek, the park is of historical significance.
A 1 km easy trail leads to a 24 metre deep box canyon on Kleanza Creek where you can view wildlife and stunning views.
Kleanza means gold in the Gitxsan language and it was this metal that influenced the early history of the park site. Placer mining for gold was first carried out in the creek in the late 1890s.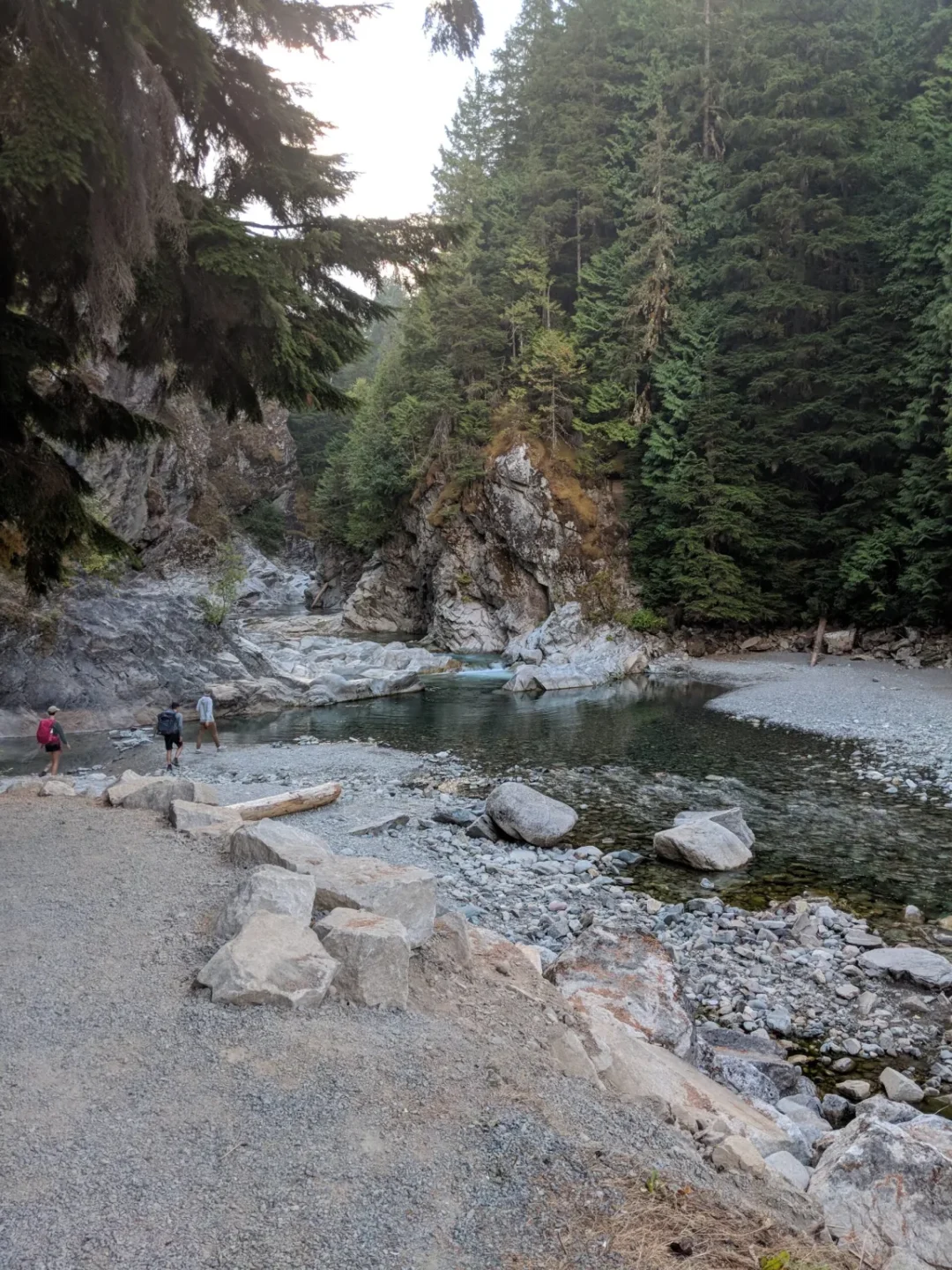 ---
Prudhomme Lake Provincial Park
Travelling between Terrace and Prince Rupert is said to be one of the most beautiful roads in all of B.C. – with snow-capped mountains and the mighty Skeena River following the highway, each turn offers another lovely view. Just before entering the city of Prince Rupert, Prudhomme Lake is the last BC Park on the mainland (along the highway). Enjoy the lake at this quiet park or set up camp and explore all Prince Rupert has to offer via day trips.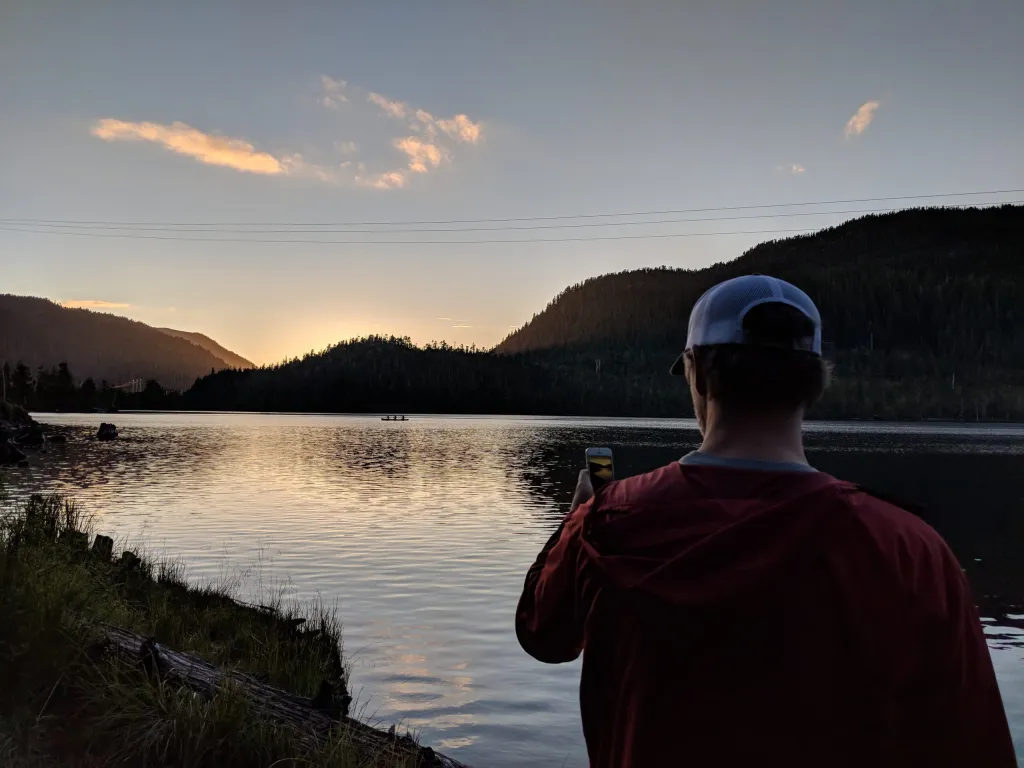 ---
I hope you enjoy your Highway 16 tour as much as I do. Best wishes on your journey – Bon Voyage!
Contributed by Natasha Ewing – BC Parks Northern Region Community Liaison Officer
For more BC Parks http://bcparks.ca/explore/
---