5 Adventure Rides Around Terrace, BC
Big rivers, stunning mountain ranges, cascading waterfalls, and abandoned ghost towns are all some of the things you can expect to explore on these adventure rides along Route 16.
Unpaved tells the story of Adventure Rider Golnoosh Namazi and her experience finding herself, and her passion, on the roads less traveled along Route 16. Created in partnership with Vahna, 6ix Sigma Productions, REV'IT!, and Golnoosh Namazi. 
Read below for Golnoosh's 5 favourite adventure rides around terrace, bc.
Nestled in the Skeena Valley along Route 16 lies Terrace, BC: 2 hours west of Smithers and an hour and a half east of the highway's terminus at Prince Rupert. Some of the most scenic views along Highway 16 can be found in this latter stretch of the highway, but the adventure rider with a keen eye for backroads will notice paths less traveled just off the highway. Big rivers, stunning mountain ranges, cascading waterfalls, and abandoned ghost towns are all some of the things you can expect to explore down these routes.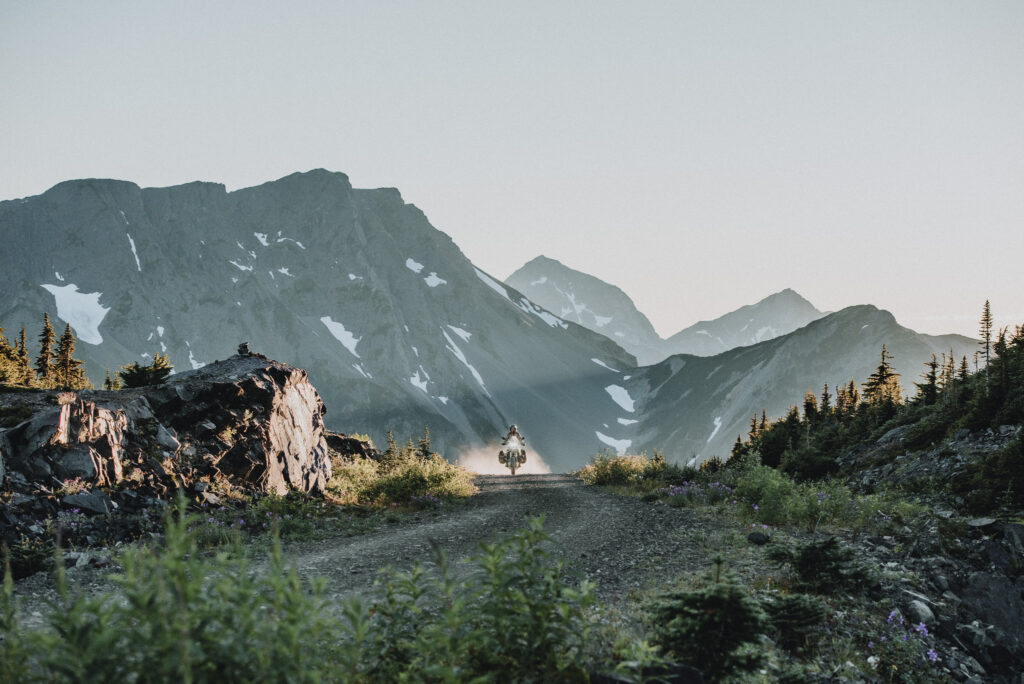 Here are 5 adventure rides, camping spots, and other attractions along this stretch of Route 16, all starting from Terrace.
1. Trapper Mountain | Beginner/Intermediate
Overview: Stunning mountain views, beautiful camping spots, and access to true backcountry riding.
Traveling east along Highway 16 from Terrace, about 4 minutes out of town, you will reach Copper River Forest Service Road (not to be confused with Copper River Road) on your right. Turn right into it.
Follow this road for 22 km until you reach a pull-out area with a burned vehicle on your right-hand side. You will notice another, narrower gravel road going up from here. Follow this road for 12 km until you reach the top of Trapper Mountain.
From here, you can see excellent views of the Copper River Valley, as well as surrounding mountain ranges. There are ATV and side-by-side trails that will allow you to explore the top of the mountain. You will also find potential spots to set up camp and watch the sunset, though be warned that, depending on the season, the bugs may be in hordes and hungry.
For the experienced off-road rider, nearby Telkwa Pass offers a challenging 24 km trail (one way) across glacier-fed creeks and avalanche debris. While this might be thought of as a shortcut to the town of Telkwa, the trail is slow going and will likely take you 4-6 hours under normal conditions. There is an opportunity about halfway to stop and camp at a lake. It's also recommended that riders attempt this route from the Telkwa to Terrace side, as the Terrace to Telkwa side requires significantly more effort for large adv bikes to get uphill in some sections. This route is not recommended for solo travel.
2. Red Sands/Hart Farm | Beginner
Overview: A popular camping spot in the summer for a reason, this little piece of paradise offers a spot to cool-off on a hot day thanks to the beautiful, clear waters of Red Sands Lake. Bring a floatie and your moto camping gear to set up base camp at the lake, then go off to explore some of the surrounding trails – there are lots!
For an adventure off the bike, there are opportunities to hike around Pine Lakes (about 12 km from the Tempo Gas bar) or, for the more adventurous rider, to get up to the trailhead of Sleeping Beauty Mountain and hike this prominent peak (about 12 km hike out and back, roughly 5-6 hours). Be warned the last few km of road to the trailhead get a little gnarlier and have you traversing cross ditches and large, loose rocks. Conditions can vary depending on the time of year.
3. Nass & Kispiox Valley Loop via Cranberry Connector & Mitten Mainline | Beginner
Overview: A beautiful, 5 hour cruise across lava beds, well-maintained gravel roads and scenic, twisty, mostly single-lane highways.
After fuelling up, drive north of Terrace via Highway 113 Nisga'a Highway. This road takes you north as you pass the community of Rosswood before entering Nisga'a lands: once you start to see lava rocks, you know you've arrived in the beautiful Nass Valley. 
Stop at some of the attractions in this area such as the Nisga'a Museum in Laxgalts'ap, or soak in the Hlgu Isgwit Hot Springs (they require advanced reservation/payment). You may also wish to fuel up at the village of Gitlaxt'aamiks before proceeding back onto the Nisga'a Highway, turning right and riding northeast for about 10 minutes towards Cranberry Connector Road.
Once you see the road turn to gravel and fork, follow the gravel road on the right fork for the Cranberry Connector Road. 
Follow this gravel road for about 60 km. You may come to certain forks in the road (such as for Nass Camp, or the ghost town of Kitsault). You can choose to explore these side roads, adding significant time to your trip, or continue on the mainline until you reach the junction with Highway 37A. 
At, turn left onto the pavement and drive north a short way up the road.
On your right you will see a pullout and dirt road labeled "Mitten Mainline". This road will take you towards the beautiful Kispiox Valley, an area that boasts an exceptional display of fall colours in mid September. There are plenty of scenic lakes to stop at to swim, nap, and enjoy a packed lunch or snack. Once you've followed this road for about 50km, turn right onto Kispiox Road, following this until you eventually hit pavement and reach the village of Kispiox. From here, you may wish to stop and view totem poles in the village itself or make your way to Hazelton, with the option to stop in the renowned K'san Historical Village and Museum.
To return back to Terrace from here, get back on Route 16 and head west for about 140km.
4. Copper Mountain | Beginner/Intermediate
Overview: This is a short, fun ride that takes you up a mountain in about 12 km, giving you stunning views of the Skeena Valley, the town of Terrace, and the surrounding mountain ranges (known as Ganeeks Laxha or 'stairway to heaven' in Sm'algyax, the language of the Tsimshian people who have lived in the area since time immemorial).
This trail starts in Thornhill so you'll have to make your way towards the roundabout, taking the exit towards Highway 16 East. 
Shortly after you've exited the roundabout, take the next right onto Old Lakelse Lake Drive. Follow this road for about 7 km, past the Thornhill Transfer Station. 
You will see a pullout on your left that you should pull into. Take the gravel road, go right when it forks, and follow it all the way up the mountain where the road eventually ends. There are stunning views in every direction at the top.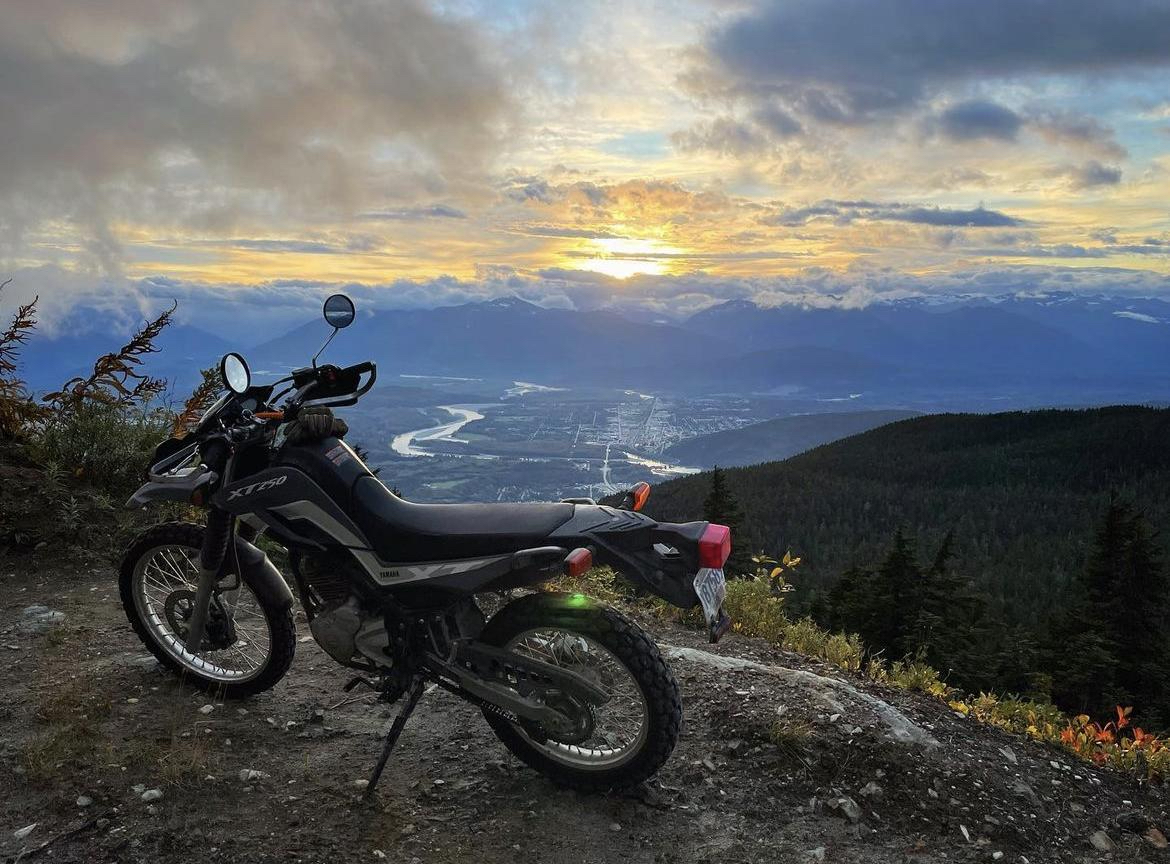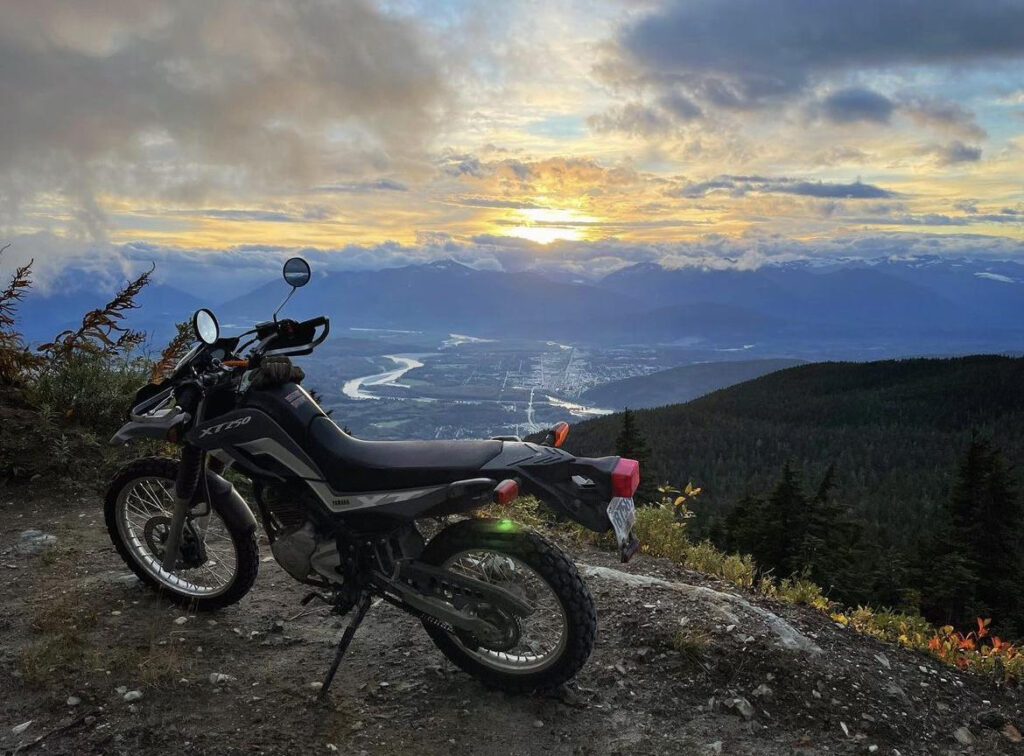 5. Exstew Falls | Beginner/Intermediate
Overview: A large waterfall, a beautiful camping spot, and lots of nearby roads to explore.
Starting from Terrace, drive west along Route 16 towards Prince Rupert. 
After about 29km (if you cross the Exstew River, you've gone 400m too far), there will be a dirt road on your right which crosses the railroad tracks. Cross the tracks and go past the yellow gate. 
FOR THE REC SITE: From the highway, follow the road for about 6 km, which will bring you to a road on your left. Follow the road towards the river. 
As the ground starts getting sandy, you know you're getting close. Find a spot and set up camp for the night. You might wish to relax by the river or take a ride up some of the nearby roads that reveal views of the Exstew River Valley and surrounding mountains.
FOR THE WATERFALL TRAIL: From the highway, follow the road for about 8 km before getting to a fork in the road. The trail towards the falls is marked with a sign. You may proceed for another 2km or so with your bike, though the trail gets slightly more challenging from here, sometimes with significant puddles and uneven terrain.
When you come to a clearing and see a memorial, you can park your bike and proceed the rest of the way on foot. The short hiking trail (about 10 minutes) to the base of the falls starts just up the road and on your left.
Adventure Rides: Important Reminders 
You're in bear country. Terrace and the surrounding area are home to black bears, grizzly bears, and even the occasional kermode bear. Be bear aware at all times when in the backcountry. Bear spray is highly recommended.

You may encounter wildlife on paved or gravel roads, sometimes hiding in ditches or brush beside the road. Stay vigilant to avoid collisions. 

Water levels vary at different times of year. Some creeks that are flowing in the spring will have dried up by the summer, and some roads may have flood conditions at certain times of the year. Never ride beyond your skill or comfort level, and always pack drinking water. 

Even in the backcountry there are other vehicles that may pose a collision hazard. There are also many roads with blind corners and poor visibility. Ride with caution.

Weather conditions can change quickly throughout the region, and some mountain ranges create their own weather systems. Packing extra clothing and waterproof gear is strongly recommended.

Cell service outside the vicinity of Terrace is spotty at best. Do not rely on your cell phone for emergency communication.

Always check your fuel and make note of nearby gas stations before you depart on your route. 
Article and photos by Adventure Rider Golnoosh Namazi.
Golnoosh is an adventure rider in Northern BC, who moved to the area to further her passion for exploring roads less travelled on two wheels. She has been riding motorcycles since 2015 when she lived in North Vancouver. In 2018 she moved to Terrace, where she loves to play outdoors even when she's not on her motorcycle. 
Follow her on Instagram @gnamazi.